Nataraj's Yultide Greetings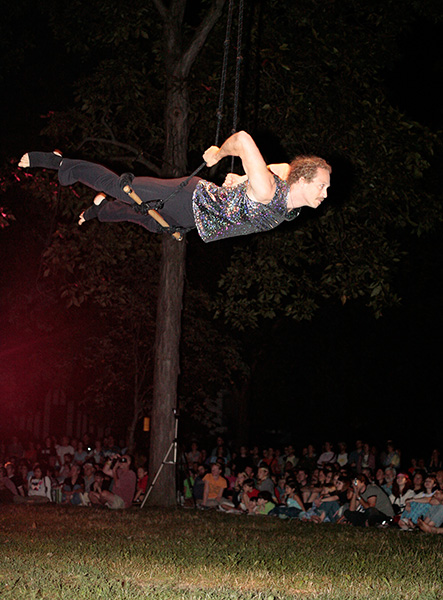 TAB Happy holidays! I hope there has been much joy, mirth, and reverence for you. It is on those things I choose to reflect as I close the calendar year.
TAB This was another stunning year of growth and development for me. My focus on contact improv dance continues to dominate my creative side. A new addition is classes, and even a performance, in aerial dance - low trapeze - as a student with Cycropia. At a professional level I finally managed to extricate myself from a job I disliked and into a much more satisfying role, still with the same employer.
TAB The year started fine with a 2-day contact improv event the first weekend of January. It was two days of dancing and comraderie, filled with much sweat and laughter. In February I took a 4-week intro class in aerial dance, or low trapeze. Also in February I performed again in the periodic contact improv dance show called Seeds. A rather disappointing crowd of about six seemed to appreciate what we offered. Later that same evening Reena performed with the band Pagee GoGo at the High Noon Saloon for Carnival (Mardi Gras). The place was packed and the dancers jumpin'. What a blast. In March our improv band, Metal East, performed again as entertainment at the UW Belly Dance Club's spring dance party, called a hafla. While totally low key, it was still fun to play a venue like the Mills Concert Hall. I enjoyed the intro trapeze class and followed it with an 11-week class designed to create and present a performance. While it was listed as being for all experience levels, in reality there were only two of us who were beginners. We had a lot of catching up to do. The performance in April was succussful and fun.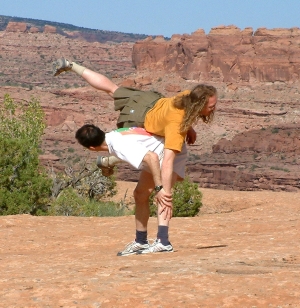 The first week of May I met up with dancers from Chicago and Lafayette, IN, and flew to Utah for a 9-day contact improv class and jam in Moab. It was an interesting class though not as rich as I'd hoped. The area around Moab was beautiful. My pictures from the trip can be found here. A 2-day contact improv workshop in June with Martin Keogh was a super experience. He's really a warm and capable teacher. As the performance trapeze class came to an end in April I wondered what to do next. There were ongoing classes at that studio but it was a 45 minute drive each way. I opted to take classes in Madison instead with the Cycropia aerial dance troupe. I was fortunate to be accepted in mid-year rather than having to wait until October. At the same time I was asked to perform in a show in August, the Orton Park Festival. That meant rehearsals 3 times a week plus a class. Oof! Instant time crunch. Fortunately for me Reena was also busy, so we just agreed to let that chaotic time occur and we'd clean the house some time in the fall. Rehearsing for the Orton show was a genuine treat, and I got to experience so much creative juice. The performance itself went well, and most of my family was there to see it. For a sample of what sort of performace Cycropia does, you can check out this video (I'm not in it). During that crazy-busy period of rehearsals, Metal East again performed for the UW Belly Dance Club's summer hafla, this time at Memorial Union's Great Hall. We also taught a workshop that afternoon on "Recognizing Rhythms For Dancers", a chance to learn the characteristics of several key Middle Eastern music rhythms and how to apply them as belly dancers. August provided another 2-day contact improv event, this time a going away dance for the lovely and talented Erica who was departing for grad school. Late in August Reena headed out to Northern California to Brasil Camp, a week of total immersion into Brazilian Samba music and dance. It was a great experience for her and helped her enhance her contribution to Pagee GoGo. The first week of October was the delightful 5-day contact improv event called GLACIER, the Great Lakes Area Contact Improv Enthusiast Retreat. My images from that event are here. November delivered another 2-day contact improv workshop, this one taught by Mark "Moti" Zemelmann. How did I have time for work?!
TAB Other than all the dance and music that we did this year we also had a couple of fun or professional trips to occupy our time. In February Reena spent a few days in Philly on a buying trip for the gallery. I had a business trip to Orlando in May. Our usual Memorial Weekend motorcycle ride with a group of friends sort of fell apart this year, with most of the people backing out at the last minute due to conflicting plans. Reena and I ended up doing a great day ride with one of our pals, and (since we weren't spending a bunch of money on 2 nights in a hotel) treated ourselves to dinner at Magnus, a favorite restaurant in Madison. For the 13th year in a row we attended the Pagan Spirit Gathering. We opted this year to lay a bit lower and not try to participate in all the rituals and activities. Together we facilitated a workshop on "Finding Magic in Drumming and Dance" that was well received, and I again taught a contact improv workshop and facilitated a daily jam. For Labor Day weekend, we drove to the great north woods and attended a fantastic three-day party with approximately 100 fellow lovers of German Bier. *hic*
TAB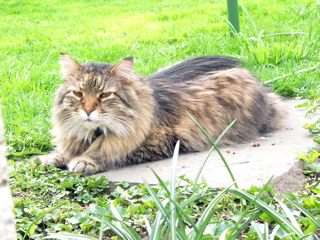 On the job front, I finally ditched the job I found myself in for the last year. My former job disappeared out from under me and I inherited tasks I really didn't enjoy. After agonizing about how to change my lot, an analyst position opened up, still at Famous Footwear, and I took it. Since I just started in this new role it's too soon to say it's fantastic, but it's a whole lot better than what I was doing.
TAB A sad note: Our dear feline companion Romeo succumbed to a brain tumor in October. We miss the big fuzzy guy and his gentle nature. Captain Hook, our other cat, doesn't seem to miss him a bit and has become a lot more cuddly.
TAB The close of the year has a few bright spots remaining. Our friend Jessica, formerly of Madison, and now in Cambridge England, is visiting with us for a few days. Since the weather is so balmy (mid-40's) she and I went for a quick motorcycle ride so she could try out my Honda 919 in case she needed to replace her current bike. Reena and I will be representing 'Divine Unity' at a winter solstice pageant, a pleasant acknowledgement of our evident bond to each other.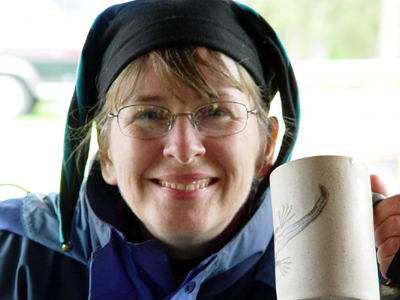 TAB There hasen't been much about Reena in this letter. She dislikes these end-of-year letters. If you want to know more about what Reena's up to, you'll have to get it directly from her.
TAB May your coming year be filled with growth and a satisfying pursuit of happiness. Magic is the act of causing change to conform to your will. Have a magical year!